Available at nearly 50 locations!

Spend $1 = Earn 1 Point

Sbarro Rewards is the new home for your birthday slice!
Slice Society and original birthday slice emails were discontinued as of August 2023. If you're interested in earning a free slice with a $5+ purchase on your birthday, all you have to do is sign up for Sbarro Rewards and we'll load in it in to your rewards account!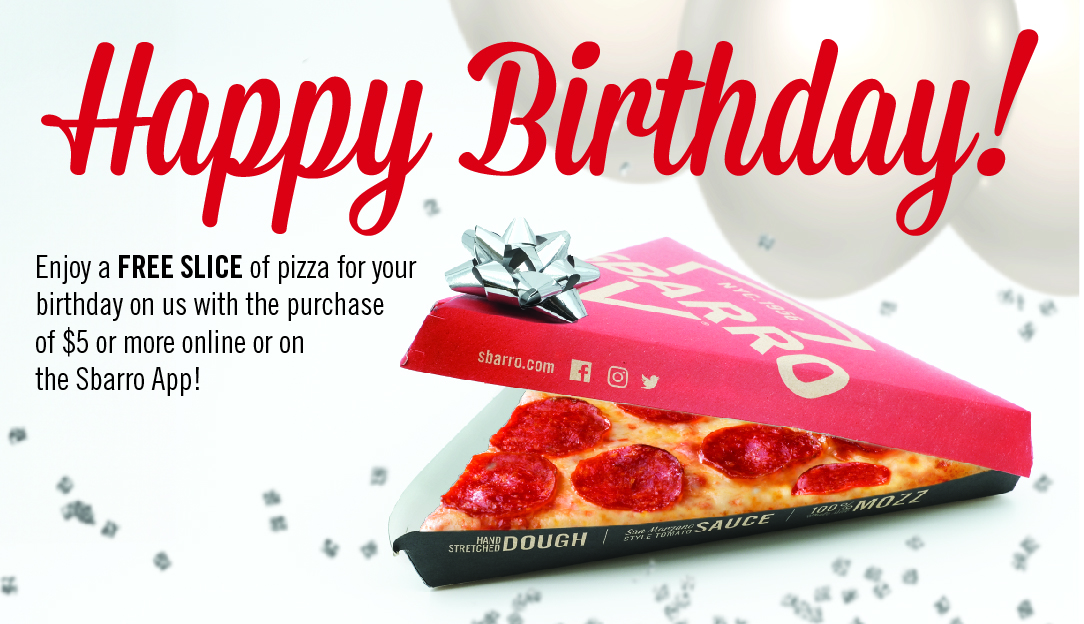 *Free slice valid with a $5 or more purchase available only on Sbarro.com and the Sbarro app at participating locations with a Sbarro Rewards Account. Free birthday slice with a $5 or more purchase is valid 7 days prior to your entered birthday upon signup and expires 14 days after your entered birthday upon signup. If unused, this reward will disappear from your rewards and no longer be redeemable.
---
How do I join?
You can join Sbarro Rewards by clicking here! You can also sign up during ordering by clicking here. Simply fill out the information including phone number, name, email address, date of birth, and your zip code.
How do I earn points?
For now, points can only be earned with online orders at select locations, we'll be opening up points to be earned and redeemed in-person soon! For every $1 you spend, you'll earn 1 point! Points are calculated based on subtotal and do not include tax, delivery fees, or tips.
How do I redeem points?
For now, points can only be earned and redeemed with online orders at select locations, we'll be opening up points to be earned and redeemed in-person soon! When you order on Sbarro.com look in the top right hand corner of your screen to see if you have available points.
Do i get anything for signing up?
What's a rewards program without a little gift!? Of course! Just for signing up, you'll get 25 points loaded into your rewards account!
Where Can I check my points balance?
If you have already signed up for an account, you can check your point balance by clicking here.
where can I earn and use Sbarro Rewards?
We have launched Sbarro Rewards at select locations for online and app orders! There are currently 140+ locations offering rewards!
Carousel Center, SYRACUSE NY
Champlain Centre, PLATTSBURGH NY
Corner of 33rd And 7th, NEW YORK NY
Queens Center, ELMHURST NY
Walden Galleria, BUFFALO NY
The Mall at Bay Plaza, BRONX NY
South Shore Mall, BAYSHORE NY
Crossgates Mall, ALBANY NY
Southern Park Mall, YOUNGSTOWN OH
Linworth Neighborhood, WORTHINGTON OH
SouthPark Mall, STRONGSVILLE OH
New Towne Mall, NEW PHILADELPHIA OH
Liberty Center, LIBERTY TOWNSHIP OH
Summit Mall, FAIRLAWN OH
Polaris Fashion Place, COLUMBUS OH
Easton Town Center, COLUMBUS OH
Clintonville Neighborhood, COLUMBUS OH
Kenwood Town Center, CINCINNATI OH
Belden Village Mall, CANTON OH
The Mall at Fairfield Commons, BEAVERCREEK OH
Beachwood Place, BEACHWOOD OH
Washington Square, PORTLAND OR
Clackamas Town Center, HAPPY VALLEY OR
Springfield Mall, SPRINGFIELD PA
Monroeville Mall, MONROEVILLE PA
Millcreek Mall Complex, ERIE PA
WestGate Mall, SPARTANBURG SC
Haywood Mall, GREENSVILLE SC
West Town Mall, KNOXVILLE TN
CoolSprings Galleria, FRANKLIN TN
Hamilton Place, CHATTANOOGA TN
Town East Mall, MESQUITE TX
Mall del Norte, LAREDO TX
Grapevine Mills, GRAPEVINE TX
Stonebriar Centre, FRISCO TX
Bassett Place, EL PASO TX
Galleria Dallas, DALLAS TX
City Creek Center, SALT LAKE CITY UT
University Place, OREM UT
Fashion Place, MURRAY UT
Dulles Town Center, STERLING VA
Valley View Mall, ROANOKE VA
Potomac Mills, PRINCE WILLIAM VA
Fair Oaks Mall, FAIRFAX VA
Tacoma Mall, TACOMA WA
Columbia Center, KENNEWICK WA
West Towne Mall, MADISON WI
Bay Park Square, GREEN BAY WI
Fox River Mall, APPLETON WI
Charleston Town Center, CHARLESTON WV
what Are your Terms and Conditions?
Sbarro Rewards Terms & Conditions can be found here.
Something isn't quite right with my points, who can I talk to?
You can always fill out a general feedback comment card here and let us know more about how we can help you.